Helen Jablonski
: PeopleCare's own and one of Chicago's own as well.
Watch the video
!
How we touch
people's lives
Need always appears to be so overwhelming. Yet in our experience, it begins to cower in the face of a simple smile. It flinches when a hand takes an elbow. Fact is, PeopleCare people, our clients, live with need every day and our volunteers face it down armed with little more than car keys or a telephone or a hot meal. We touch people's lives. We're always amazed at how much they return the favor.
Using primarily volunteers PeopleCare will assist and support the homebound elderly by providing socialization, emotional support and access to service providers where no one is denied services. In 1990, PeopleCare began providing a volunteer friendly visitation program to the homebound, which often served as a respite for a primary caregiver. Today, PeopleCare is still reaching out to the elderly, specifically targeting communities without programs to benefit those whose age or physical condition limits their mobility. PeopleCare serves more than 1,700 clients annually. PeopleCare. We're here every day to show just how much.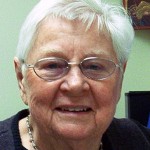 Helen Jablonski
1917 - 2014
Helen Evelyn (Zydek) Jablonski passed away Monday, March 03, 2014, at the age of 97. As she desired, Helen spent her last days surrounded by her family and friends in her home [read more...]
You'll be amazed what can
start with one call
What can one hour mean? To a PeopleCare client it can mean a doctor's appointment on time,  a filled prescription, or three hotels on boardwalk. To a PeopleCare volunteer it's seeing the amazing difference their time can make. Every hour is precious. At PeopleCare we think that's the most important lesson of all. To learn more, volunteer or request assistance, please call us at (708) 442-1223.
True Story
E
lla from Brookfield was 96 and her family was finding it difficult to get her to daily cancer therapy at Loyola. Making it more difficult: the rides that would be required for six weeks, five days a week. That's 60 rides to coordinate. PeopleCare volunteers to the rescue. Every ride in July and August was scheduled and the team went to work. Jack and Marilyn worked in tandem on Tuesdays and Thursdays. Eileen took Wednesdays. Janet Mondays. Doris, Ann and Ernie filled in wherever they were needed. Ella got to therapy…with a big cheering section.